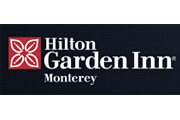 Hilton Garden Inn Monterey
1000 Aguajito Rd, Monterey, CA 93940
1.800.413.6495
Need Help?
Call 1.800.413.6495
About Hilton Garden Inn Monterey
The Hilton Hotel Garden Inn is one of the Carmel/Monterey areas most beloved hotels, with guests seeking refuge among the majestic pines of Monterey Bay.
The hotel features rooms with top-tier amenities, such as air conditioning, wired and wireless high-speed internet access, a large work desk, a 42-inch flat screen HDTV, refrigerator, microwave, balcony, and more. The grounds are perfect for a long weekend and some much needed R&R, with a heated outdoor swimming pool and whirlpool, fully equipped fitness center, and a mere 10 minute drive to some of Carmel's most favored spots to visit, such as Pebble Beach, the Aquarium and Cannery Row. Additionally, the Hilton Garden Inn is located near the iconic Highway 1—a scenic route that covers almost the entire California coastline—and truly helps make Carmel feel like the veritable paradise it's come to be known as.
Our Low Price Hotel Guarantee
We are confident that our hotel prices are guaranteed to be the lowest rate you can find. If you find a lower rate for your hotel on another site, we'll refund the difference to you. Book with us and enjoy total peace of mind!
If you find a lower rate at any time up until hotel's cancellation window, we'll match the price. The lower price you find needs to be for the same dates, length of stay and room type.
---
Found a better price?
The lower price you found must be available on another website directed to consumers in the same locale, and must be for the same hotel, dates and room type.
If you used a coupon/discount voucher when you made your original booking, you can still claim under the guarantee. We will use the total discounted price you paid and compare this to the lower price you found in order to calculate your refund.
If you have made a booking which cannot be cancelled — whether it is non-refundable or if you are already within the cancellation window for the hotel — then you can't claim under the guarantee. Bookings that were part of a specific promotion (e.g. 3 nights for the price of 2) are also excluded from claiming under the guarantee.
Once we have confirmed that you are due a refund under the guarantee we will issue the refund to the card you paid with at the time of booking. We will process your refund immediately but it may take your bank up to 30 days to process it and for it to show on your statement.
Why book with us?
Carmel.com doesn't charge cancellation fees
We're just a phone call away: 1.800.413.6495 or 00.800.1610.1690 (Europe)