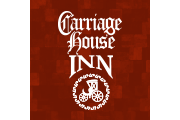 Carriage House Inn
Junipero Between 7th And 8th, Carmel, CA 93921
(800) 610-3274
About Carriage House Inn
Intimate European Elegance in Carmel. Awarded the prestigious AAA 4-Diamond rating for over 30 consecutive years, The Carriage House Inn has a wonderful elegance and charm that exudes its European flavor in d??cor.
Articles mentioning Carriage House Inn
Romantic hotels and inns in Carmel are in high demand throughout the year for weekend getaways and extended vacations. From quaint Carmel Village Inns close to shopping and fine dining to cliffside dwellings with spectacular views, there's an abundance of romantic accommodations to choose from. Find more lodging options with the Carmel.com Hotels Directory.