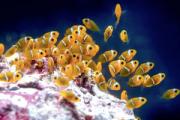 Edit
Monterey Bay Aquarium
Hours:
Mon-Sun:
10:00 am - 5:00 pm
/
About Monterey Bay Aquarium
Julie Packard, of the Hewlett-Packard (HP) family in Palo Alto, founded the Monterey Bay Aquarium, establishing the organization as a world-renown marine conservation aquarium like no other in the world. The Monterey Bay Sanctuary is one of the famous aquariums on the west coast. This is a great family friendly attraction that has fascinating exhibits and collections that rival most other aquariums. Some current exhibits include Sea Otters, Giant Octopus, and Jellies: Living Art. This spot is a must see for anyone visiting the Monterey Peninsula. Please join the Monterey Bay Aquarium membership and help promote marine conservation in the oceans.
The world-class Aquarium is on historic Cannery Row in Monterey and open daily except Christmas. Hours at www.montereybayaquarium.org or (831) 648-4888.