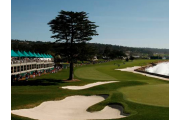 Pebble Beach Resorts
1700 17 Mile Dr, Pebble Beach, CA 93953
(800) 654-9300
About Pebble Beach Resorts
Pebble Beach Resorts is home to three resorts, four golf courses, a world class spa and the scenic beauty of Monterey.
Articles mentioning Pebble Beach Resorts
Carmel and the Monterey Peninsula area offer some of the most scenic and challenging golf courses in the country, offering everthing from panoramic views in the Carmel Valley to majestic seascapes at Pebble Beach. Golfers looking for an unforgettable round will want to take note of these memorable holes.
Explore Nearby
1

1700 1700 17 Mile Dr

2

17 17 Mile Dr

3

1700 17 Mile Dr